FAQs
Here is a list of some of our most frequently asked questions about our handmade designer rings, bands, bracelets, pendants, and earrings.
Collapsible content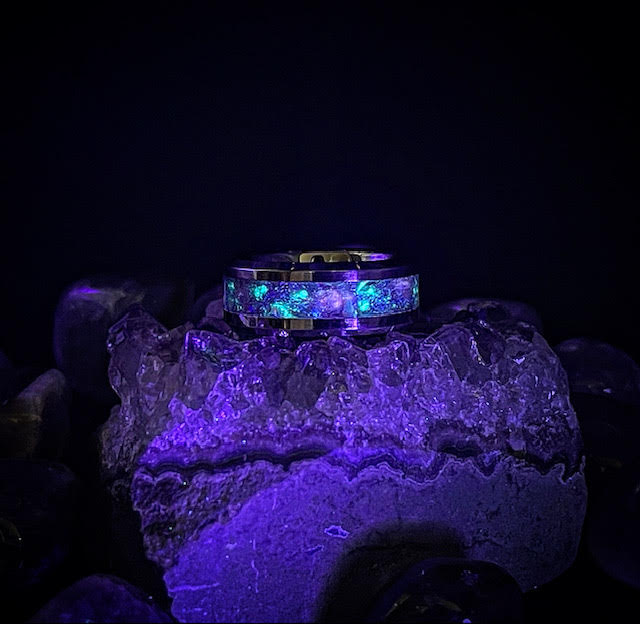 How long is your current lead time for ring and other jewelry production?

All of our rings are handmade. The current lead time for all of our rings is currently 1-3 weeks. While we strive to get your order shipped faster, by placing an order, you are acknowledging production delays may occur due to situations beyond our control.

Earrings are currently 2-3 days and pendants are 1-2 weeks.

This could include heavy order volume during wedding season or special holiday, material shortage, or shipping delays. If a ring is available in our "Clearance" section, then we will ship within 2-4 business days!
What do we currently offer in ring sizes, widths, and materials?

We recommend being sized properly at a jewelry store or by a professional jeweler. If neither of these options are available to you, we will mail you a ring sizer for free upon purchase! Simply choose the "unsure" option when selecting your size.

Please keep in mind that we cannot begin your ring until you provide us with sizing information. Our 1-3 week lead time does not begin until that information is received.

In the event you are sized incorrectly we offer a one time exchange in our Refund Policy

We currently offer a 6mm width and 8mm width variant with our ring cores. We can do special orders for 4mm. Please contact us prior to ordering.

Sizing for 6mm bands we currently offer sizes 4-12 including half sizes. Sizing for 8mm bands we offer sizes 5-15 including half sizes as well. Some Rings will not have a 6mm option due to the amount of material needed to complete certain designs. If the option is not avaiable in a drop down menu when ordering, it is not applicable for that ring.

At this time on our website we are offering 4 types of ring cores which are Tungsten, Hammered Tungsten, Black Ceramic, and White Ceramic. We will be offering other materials in the near future as they become more readily available.

If you have any specific requests or questions, please Contact us!
Information about the glow powder we use for our rings!

We use only the best glowing materials available. We have found that with TechnoGlow!

Technoglow Allows us to offer our customers the brightest and most unique colors available (We will continue to add more of their colors in the future). If you have a specific request please contact us!

The powders used in our rings can glow up to 26 hours and an average lifespan of 30-50 years!

We utilize their Ultra Glow Pro-Series. This variant is natural and bright, comprised of a unique formaldehyde-free formula to create the fluorescent daytime colors.

However a lot of the rings we create use their Natural glow powders. They are also called invisible by some. It is usually light of color or an off-white in normal daylight. It glows either green, aqua, blue, purple, red, orange or white in the dark.

If mixed at a low ratio it can appear invisible in transparent products. These glow longer and brighter than fluorescent glow powders that are tinted for a colorful look in daylight.

We do our best to capture perfect photos of our rings glowing NATURALLY and accurately. This is not always the easiest with different glowing colors. This is why we show pictures of our rings in natural light, UV enhanced light, and what a ring looks like in the dark with no lighting.

These rings are naturally charged by UV light (sun light). For even just a few minutes your rings will glow with a nice ambience! For any ring that glows we will send a uv keychain for free so you can illuminate it any time!

Please note that these rings are not blindingly bright. It is meant to be a nice effect to the ring. There are specific color combinations we will not utilize due to poor glowing capability. Colors that are darker on the spectrum will not glow as bright such as red.
Where do you source your exotic materials from such as meteorite and fossils?

All of our ring materials are sourced ethically, legally, and without detriment to the environment! We update each ring description with where current exotic items are sourced from.

Our fossils and dinosaur bones are sourced from around the world, while obeying local regulations on the excavation and exportation of fossils through Fossil Hoard.

Our Historic items such as samurai sword fragments or coin fragments are sourced through History Hoard. Sands, Uniforms, etc have either been won at auctions, purchased through estate sales, or other trusted sources!

Our Gems/Crystals/Rocks are sourced ethically and locally from Lori's Lapidary and Gem Mountain NC.

Our meteor pieces we are currently using for our rings are sourced from two different locations. Our Muonionalusta meteorite is sourced from Patrick Adair Designs and our Campo De Cielo is sourced from AZ Meteorites and Dancing Bear Rocks and minerals.

Our M1 Garand stocks are currently sourced from The Stock Emporium.

Our stingray hide is ethically sourced from local crabbers who get rays stuck in their nets. If they are still alive, they are released back into the wild. Otherwise they are professionally handled with zero waste. We receive the hides and dye them with a special mixture to give our hides a unique appearance!
Important information on care and maintenance

Our rings are crafted and built to last. Each ring comes with a small carry pouch for storing and a microfiber cloth for a quick wipe down.

Soap and water are fine for basic cleaning but please avoid any chemicals such as acetone, rubbing alcohol, debonders, etc.

Our rings are made with UV resin and CA Glue using such chemicals can and will destroy ring inlay contents. This is not covered under our warranty!
Partnerships, business proposals and requests

MariMar Galleria would love to collaborate with other businesses, especially if you're local or a small business just like us! Have an idea? Want to stock our rings in your store or boutique? Want us to custom design a specific ring for your company? Send us a message! We would be happy to help!
ABOUT US!
MariMar Galleria is a small business operating out of Lancaster, PA.
Our most notable services come from our rings as we are able to design directly with the client to make their perfect ring, engagement/wedding set, or pet remembrance ring.
Each ring is handcrafted with care and insures that no two rings are ever the same. This always makes for a precious family heirloom that generations can enjoy and know that their jewelry is truly one of a kind!
MariMar Galleria works with numerous local boutiques and jewelry stores, most notably Warren Jewellers and Park Hill Jewelry. So if you are local to any of these shops, stop on by to see some of our designs in person!
We also go through great lengths to ensure that all of the specimens used in our jewelry are ethically sourced and authentic! This is why we have also teamed up with incredible experts in their industry from Fossil Hoard and History Hoard to help us authenticate items such as our dinosaur bone and other unique materials.
Lastly, for our other materials we use only the best! That is why we chose to source from Patrick Adair, GluBoost and TechnoGlow when it comes to powders and other inlay items.
Thank you for visiting our page and remember all of our rings can be 100% customizable to meet your needs. If you see a design on our page and want to swap colors or items, simply send us an email or contact us and we can custom create your dream ring from scratch!